21

Apr
The 'World's Best' DIY Immobiliser
Came across this article recently: http://www.autospeed.com/A_107975/cms/article.html
which basically outlines how to fit a hidden immobiliser in your car. Instead of the usual killswitch to the coil, this one has a killswitch but can only be reactivated by swiping a magnet over a hidden location – if the thief can only find your pushswitch, he or she still can't start the car.
This little modification is great for our Triumphs as they came with very little in the way of anti-theft measures from the factory. The article is good at explaining how the switch works, but the schematic is poor for explaining how to wire it up, especially if you don't do much electronics.
Consequently, I've made you a simplified diagram: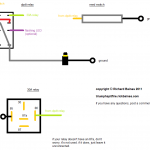 (click to view enlarged version)
Pins 30 and 87 are where your interrupted circuit goes in, for example if you were disabling the ignition coil with this, you would take the connector off the + side of the coil and connect it to 87. Then run a wire from 30 to the + side of the coil. The automotive relay is now taking your ignition coil in and out of the circuit depending on whether the immobiliser is on or not.

The main problem with diagrams is that depending on what relay you use for the lower powered DPDT relay, the pins might be wired slightly differently. I've drawn the diagram with this relay in mind, available from Maplin: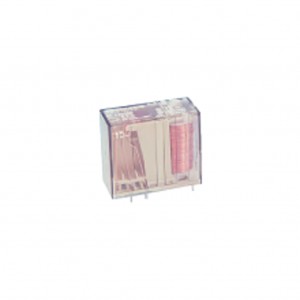 You want to order Maplin product # FJ43W, "12V 8A miniature relay". It's only £3.49 and was the most expensive part of the circuit. The 'reed switch' can be just one half of an alarm contact (99p on ebay), the other half can become the magnet used to reactivate the circuit. The push switches usually only cost around £1, and 30/40A automotive relays should cost under £2.
You can use an LED if you'd prefer a deterrent, or leave it off if you don't want people to start looking for an immobiliser. The choice is yours.