18

Nov
Hood Stowage Cover (for hardtop use)
One part I've been trying to find lately is a factory option that you could purchase for your hard top. Unlike the normal hood stowage bag, this one fits inside the hardtop and goes around the folded up hood – perfect for those like me that are too lazy or too space-constrained to take the hood assembly out when the hardtop goes on over winter.
So far my attempts at finding a black one have been unsuccessful. Reproductions are scarcely available, but I'd prefer an original really, and the only new old stock ones out there are sold by Rimmer Brothers in a Chestnut colour: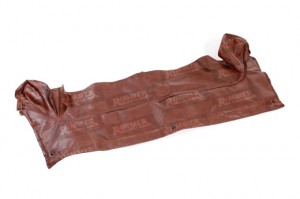 which is part 822433. The part I need is 822431!
I'd be happier making my own DIY one in black than having something the wrong colour, even if it is a genuine original.
It was quite frustrating to get a phone call from one supplier telling me they had one in stock, only for them to return my cheque weeks later claiming they'd found a mouse had eaten part of it. Not particularly impressive.