25

Jun
Fuel Tank and Wideband Progress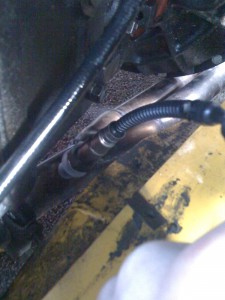 I might have my wideband installed by the end of this week, today I took the gearbox tunnel off to figure out where it was going and centre punched the location just after the collector. Tight fit isn't it!? Also topped up the gearbox oil while I was there, bloody hell replacing a mssing 0.2l doesn't half make a difference to smoothness!
Having had a look at the breather pipe again in the fuel tank, it's pretty much about 8mm therefore the same size bore as the outlet. I think this is sufficient to at least try, and if the return feed needs enlarging once the system has been tested then it's not exactly the end of the world taking the tank out again to get this done.
The fuel system will consist of tank out > low pressure pump > swirl pot > high pressure pump > fuel rail > pressure regulator > return feed into swirl pot > swirl pot return at top of pot back into the fuel tank.