01

Oct
Changing Steering Wheels on a 1977-78 Spitfire
A simple enough task? Not so. These models were in what you could call a 'transitional period' for Spitfire steering wheels, where the new column and shroud design had just appeared. Unfortunately, these cars hadn't received the benefit yet of a Moto-Lita boss, so if you're looking to use a Moto-Lita wheel with one of these cars, you'll need to purchase one.
My car is a '78, chassis number FH111xxx. The dealer that supplied a new Moto-Lita wheel for this car first included a B20H boss. This was for earlier Spitfires, and didn't fit. Subsequently I exchanged this for the correct, later style one (B45), yet we then ran into a problem.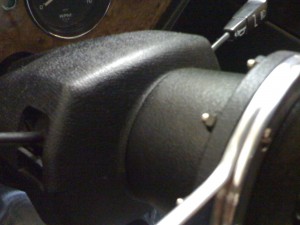 Firstly, the boss goes back as far as it can against the (TR7 style?) steering surround, there's no chance of it going further back relative to it. It engages on the spline, but then I can't get the nut on because the column doesn't surface out of the boss again (it's almost there, another 1/2″ would be ample):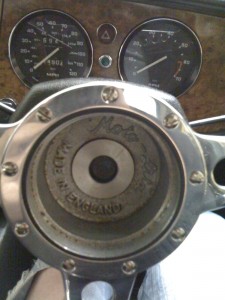 …and then there's the fact that the wheel is just a little too close to me for my liking, I'd like to move it closer to the dashboard. It seems that the surround could move in, as it's quite far out of the dashboard: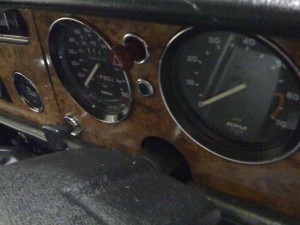 Surely all post 77 Spitfires have this problem with the Motolita boss, I can't figure out why Moto Lita didn't just make it a bit less wide and also a bit shallower. Anyhow – onwards to the solution.
Thanks to a great suggestion by a fellow TSSC member, I eventually solved this problem by trimming the plastic column shroud with a dremel to make the opening wider. Only I didn't do it to my shroud, I got an identical one from eBay, cleaned it up and used that, just in case I decided to go back to the original wheel!