21

Nov
A Post / Hardtop Seals
An interesting feature of the Spitfire in the Heritage Motor Centre's collection is the orientation of the rubber seals used on the hardtop, door surround and A post. You can see what I'm talking about here: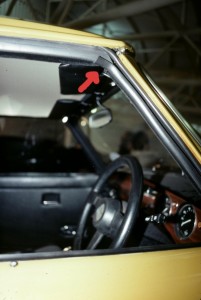 Notice how the two seals extend longer than the A-post, to the point where they'd stick out above the top of the car slightly if you didn't have the hardtop installed. It's possible to move the 'p shaped' seal on the A-post up and down a bit to get this nice seal, but to get that length on the door surround seal, it'd have to be done deliberately the first time the seal was cut.
So I wonder – did all hardtop cars leave the factory with these longer seals (for owners to cut them shorter later when taking the hardtop off), or is this a bit of a rarity on Spitfires?